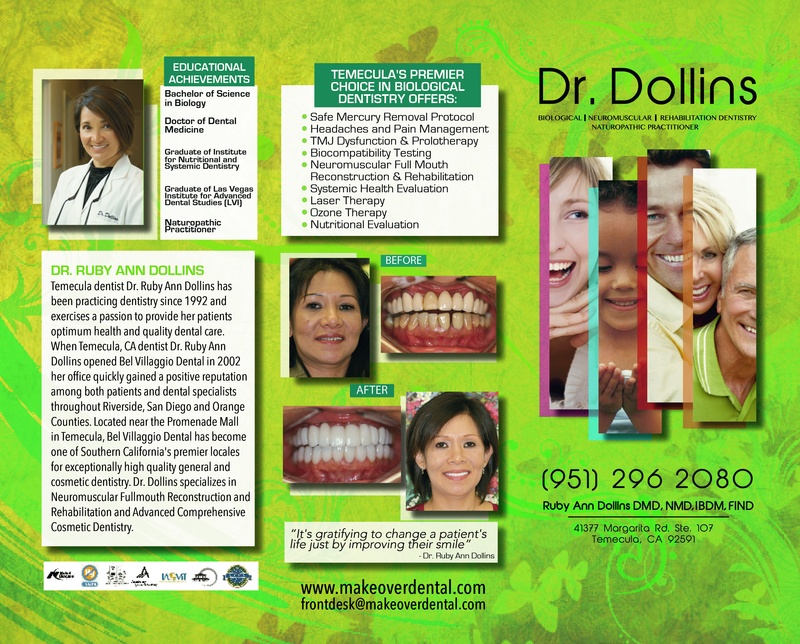 Ruby Ann Dollins, DMD, NMD, IBDM, FIND
Dr. Ruby Ann Dollins earned her Bachelor of Science degree in biology in 1984 before attending dental school at Lyceum University in the Philippines, from which she graduated with her Doctor of Dental Medicine degree in 1992. She is also a graduate of the Institute for Nutritional and Systemic Dentistry and the Las Vegas Institute for Advanced Dental Studies (LVI). She has practiced as a dentist since 1992, and has been part of the Temecula community since 1999. In 2002, she opened Bel Villaggio Dental and quickly gained a positive reputation among both patients and dental specialists in the Riverside, San Diego and Orange Counties.
Dr. Dollins continues her education regularly to ensure that she stays at the forefront of the dental field, and has received advanced training in neuromuscular full-mouth reconstruction and advanced comprehensive cosmetic dentistry. She has also achieved a Fellowship in nutrition. Some of the biological dental services Dr. Dollins offers include safe mercury removal, headaches and pain management treatments, TMJ therapy, biocompatibility testing, neuromuscular full-mouth rehabilitation, systemic health evaluations, laser therapy, ozone therapy and nutritional evaluations.
Dr. Dollins is a member of several professional organizations, including:
American Dental Association (ADA)
Academy of General Dentistry (AGD)
International Academy of Oral Medicine and Toxicology (IAOMT)
International Academy of Biological Dentistry and Medicine (IABDM)
As a dentist, her goal is to provide the most accurate diagnosis possible so that she can direct her patients to proper healing modalities. She is very dedicated and passionate in learning new skills and treatments so that she can give her patients the best possible care and be able to guide them to the proper channels of healing for optimal oral and overall health.
Dr. Dollins is married with five wonderful children, two daughters and three sons. She enjoys many hobbies in her spare time, including reading (check out her recommended reading list below!), hiking, traveling, golfing, kayaking, paddle boarding, painting, drawing, photography, design, dancing, going to concerts and checking out new dives.
Video Testimonials:
Reccommended Books:
Nutrition and Physical Degeneration by Weston A. Price, D.D.S.
Pottenger's Cats: A Study in Nutrition by Francis M. Pottenger, Jr., M.D.
Root Canal Cover Up by George E. Meinig, D.D.S.
How to Save Your Teeth by David C. Kennedy, D.D.S.
Uninformed Consent by Hal Huggins, D.D.S.
It's All In Your Head by Hal Huggins, D.D.S.
Beyond Amalgam by Susan Stockton
Natural Mercury Detoxification by William Rasmussen
Healthy Teeth for Kids by Jerome Mittelman, D.D.S., Beverly Mittelman, B.S., and Jean Barilla, B.A.
Death by Calcium by Thomas Levy, MD, JD
The Roots of Disease by Robert Kulacz, D.D.S. and Thomas E. Levy, M.D.
Swiss Secret by Dr. Thomas Rau
Recommended Websites:
Dr. Marion Thomas – Insurance Doctor
Dr. Marion Thomas attended dental school at Université de Montpellier in France. She then attended Laval University in Quebec, Canada, graduating in 2002. Dr. Thomas has been practicing in the Temecula Valley for over five years. She takes continuing education courses every other month so that she can provide excellent care to each patient.
Dr. Thomas is married with three children. When she is not at the office, she loves going to the beach, playing tennis, hiking, and skiing.